Welcome to Chuckles Childcare & Early Learning Centre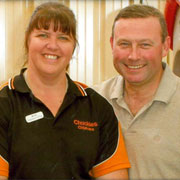 We are a small privately owned childcare centre located in Warnbro. We are committed to delivering a high standard of childcare and early childhood education in accordance with all guidelines set out by the 'Australian Children's Education and Care Quality Authority', the 'National Quality Framework' and the 'Education and Care Services National Regulations and Law (WA) Act'.
We aim to support our families by creating a homely environment, where the children are happy to stay and the parents/carers feel supported.
We look forward to you joining our Chuckles family.