Family Owned & Operated Childcare Centre at Warnbro
Chuckles Childcare opened on 2nd March 2010, as a family owned and operated private centre. We believe in providing a service to families and the community which is inclusive, inviting and homely and we welcome prospective families to
come and view our centre at any time.
We are proud to say that we have a team of qualified, professional and friendly educators, which values our families' beliefs and cultures, and encourages family and community involvement.
Chuckles Childcare currently has an EXCEEDING rating.
In 2020, Chuckles Childcare made it onto the West Australian TOP 50 CHILDCARE CENTRES IN WA.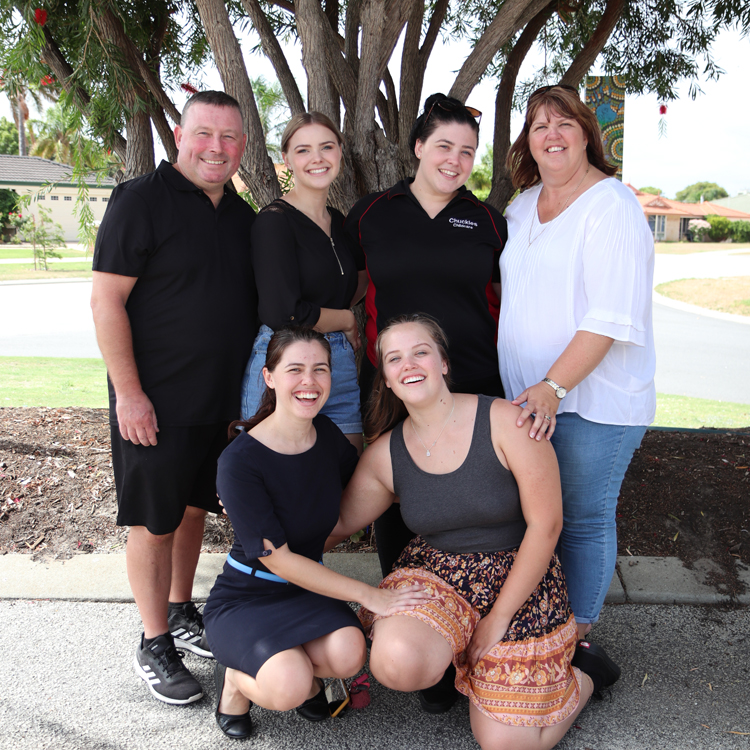 Our Team
Proprietor/Director (Ann)
Manager/ 2IC (Mel)
Qualified Early Years Teacher, Diploma in Childcare and Cert III in Childcare Educators:
All our educators have a recognised qualification as specified in the Education & Care Services National Regulations and
Law (WA) Act. Photos of all staff members are located in the foyer and within their classrooms. Each room has a friendly
and consistent mature team of educators, that can be recognised by a uniform with the Chuckles logo and name badge.
The centre will sometimes employ young trainee educators that will be working towards a childcare qualification.
Employed educators will obtain; a first aid certificate, federal police clearance, working with children's check (w.w.c.c) and
a medical certificate.

Students and volunteers:
We at Chuckles Childcare take pride in hosting a number of students each year from; High Schools, Tafe and Universities, who would like a career in childcare. At Chuckles we like to demonstrate a positive learning experience for our students, whilst passing on our knowledge and expertise. In turn, the students give us an opportunity to share ideas and keep us up to date with new practices. All students and volunteers are carefully screened prior to working at Chuckles, and students will always be supervised by a permanent member of staff. The students wear a red tabard to distinguish from employees.
Relief staff:
We at Chuckles like to offer consistency to our children. When our permanent staff are on leave, we have qualified relief staff members that are employed to cover any absences.