Welcome to Chuckles Childcare & Early Learning Centre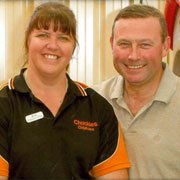 Chuckles Childcare opened on 2nd March 2010, as a family owned and operated private centre. We believe in providing a service to families and the community which is inclusive, inviting and homely and we welcome prospective families to come and view our centre at any time.
We are proud to say that we have a team of qualified, professional and friendly educators, which values our families' beliefs and cultures, and encourages family and community involvement. We have an EXCEEDING RATING and in 2020 we made it onto the West Australian TOP 50 CHILDCARE CENTRES IN WA.
Chuckles Childcare and Early Learning Centre Offers:
Long Day Care ~ Open Monday to Friday 6.30am to 6pm
Before and After School Care (servicing Kindy children only from Koorana Primay and Waikiki Primary Schools)
A Qualified Personal Chef; that cooks nurtritious meals on site and can specifically tailor meals to individual child allergies, intolerances and preferences.
A PLAY BASED educational program; designed for 0 to 5 year olds, which incorporates the Early Years Learning Framework (EYLF) and ACECQA National Quality Standards.
An Early Years Teacher; delivering a curriculum, which assists the children in being independent, creative, social and school ready.
Excursion and Incursions; which involves the community and interactive learning incorporating life skills.
Auslan Sign Language ~ Debbie from 'Signing Hands' teaches the chldren Auslan signs through stories, songs, rhymes and play. Families are also invited to attend these classes.
Indonesian Language ~ An Indonesian teacher visits the centre once a week, to teach the chidren aged 3 to 5 years the Indonesian language, through songs, stories and fun play based activities.
Happy Feet Incursions with Miss Karen; where physical fitness and dancing is used to encourage the children to make healthy choices in every aspect of their lives.
Gardening Club ~ Gary from 'Bee Green Garden Maintenance' works at the centre each week, to teach the children how to care for the centre garden and pets. Garener Gary and the children have created a community garden, in the centre carpark, which has herbs, fruit and vegetables for everyone to enjoy.